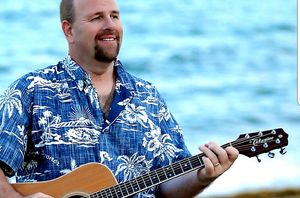 BIO
Jason Colannino is a singer songwriter entertainer, born in New Jersey, resides in Boynton Beach Florida, and has been a local favorite in the South Florida music scene since 1990. 
Jason performs a vast repertoire of songs from the singer songwriter era of the 1970's, otherwise known as mellow rock. Highlighted with material from his musical heroes Neil Young, James Taylor, Paul Simon, Harry Chapin, and countless others of the genre. 
Jason has recorded four CDs containing original songs, Since 1969, Piece of the Sun, Lost in Vacation, and his current CD A Hawaiian Music Tribute, which is a collection of cover songs by Hawaii songwriters. 
Over the last few years and several gigs in Hawaii, Jason has added the ukulele to his act. Breaking the stereotype of the instrument by covering songs by the Beatles, Frankie Valli and Queen. He includes many songs from what has been called the Hawaiian music renaissance of the 70's, featuring artists such as Cecilio and Kapono, Kalapana, Ka'au Crater Boys, Olomana, Keola and Kapono Beamer and many others. Jason has said that although the songs he learned in Hawaii may not be new, it was new to him, and gave him the ability to explore a different style of music and enhance creativity. It also gave Jason the chance to learn, through its music, the history, the stories, and discovery of the heart and soul of Hawaii.